If the Christmas spirit and the bake spirit come together for you but you don't have the time – or the patience… or the talent–, we have the ultimate list of super easy, quick and cool Christmas treats! And we save 2 not-so-easy Christmas desserts as extra recipes just in case you want to try!
Here you have 5 recipes, from the easiest to the most difficult (not that much in fact!):
Level: easy peasy lemon squeezy
More than a recipe book, you may need an Ikea ensemble instructions for making these! Super easy, you just need to ensemble the pieces. Mini pretzels as the reindeer antlers, red balls or mini M&M's for the nose, melted chocolate or frosting for attach the nose to the cookie and Oreos. That's all! If you want, you can use a cool straw or cake pop stick and a cellophane bag, a cute string to make a little bow and give it as a Christmas candy with your gifts.
Level: easy peasy lemon squeezy
Also, super quick and super easy! All you need is whipped cream, strawberries and black icing gel for the little eyes. Done!
Level: really easy, like really
It's also super easy, you just need to keep in mind things can be sticky, so it's a good thing if you use gloves (for example, nitrile gloves). You just need marshmallows and candy canes, chocolate for melting and, if you want to use them as Christmas candies to give also, cellophane bags and a nice bow.
Level: super easy
Traditional cookies, just made with love. You will need to invest a little more time for this recipe and to turn on the oven, but the result is a yummy classic. Want the fancy factor? Melt chocolate and dip half of the cookie. Then put it on wax baking paper until and allow to set.
Level: easy.
You have the original recipe in the link, but the fact is that you can do this finish with any chocolate cake you like. You just need your chocolate favorite cake, cranberry jam to put inside –or strawberry or whatever you like the most–, melted chocolate for the covering and a cranberry and a holly leaf for decorating.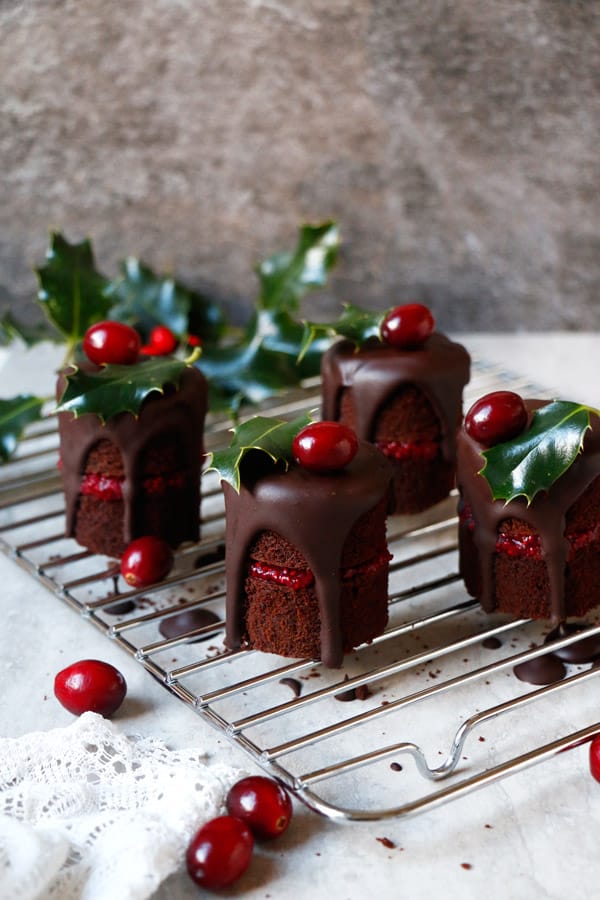 Extra!
If you like challenges, let's go for this two recipes!
Level: medium
In fact, it's quite easy to do, the time it takes is just 40 minutes including baking and decorating and everything! If you want, you can put a fancier decoration, but it's also nice with a simple one like in the picture.
© Vikalinka
Level: hard
Our top recipe in Spain! The Roscón de Reyes is what we traditionally eat on the 6th of January, día de Reyes. It could be filled in with whipped cream or chocolate, or just plain. In the full recipe you will find a video that will help you!